Comentum eCommerce Software
The revolutionary, enterprise eCommerce software
for any business of any size
July, 2012
Comentum's new enterprise ecommerce platform is considered to have the best performance of any eCommerce software – and it includes Comentum's new innovation . . . Intelligent SEO™, along with custom product organization, presentation and navigation based on workflow and project requirements.
Comentum eCommerce is highly maintainable, customizable and manageable code by any capable developer.
Comentum Enterprise
Magento Enterprise
PHP MVC
License and Support
One Time Fee
Yearly Fee
License per Server

Unlimited Server Licenses per Client
(install and run on as many
servers as you like)

One License Per Server per Client
(additional license fee per server)
Developer Friendly
About 30,000 Lines of PHP Code
Quicker Learning Curve
for any capable developer
About 1.8 Million LInes of PHP Code Much longer learning curve
for any capable developer

Comentum has the data to prove that the Comentum Enterprise is faster than any other top PHP ecommerce application.
Comentum eCommerce, Magentio, OsCommerce, OpenCart, PrestaShop, ZenCart were installed and configured with the same number of inventory on a dedicated server with a QuadCore Xeon X3320 and 4GB RAM. ApacheBench was used to compare all platforms for their performance, and Comentum eCommerce delivered 162 Requests per Second vs Magento which delivered 11 Requests per Second—Comentum eCommerce performed 14.7 times faster than Magento.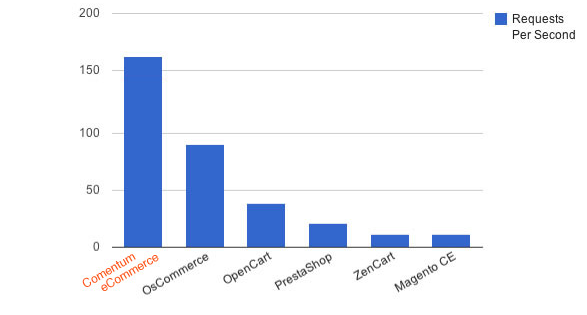 ApacheBench Test, July 2012
| eCommerce Software | Requests per Second - More is Better | |
| --- | --- | --- |
| Comentum eCommerce | 162 | |
| OsCommerce | 90 | |
| OpenCart | 39 | |
| PrestaShop | 39 | |
| ZenCart | 11 | |
| Magento CE | 11 | |
| eCommerce Software | Number of PHP Files Loaded - Lower number is better, faster | |
| --- | --- | --- |
| Comentum eCommerce | 14 | |
| OsCommerce | 73 | |
| OpenCart | 89 | |
| PrestaShop | 123 | |
| ZenCart | 163 | |
| Magento CE | 275 | |
| eCommerce Software | Number of Lines of PHP Code - Lower number is better, easier to maintain | |
| --- | --- | --- |
| Comentum eCommerce | 35,000 | |
| OsCommerce | 80,000 | |
| OpenCart | 61,000 | |
| PrestaShop | 370,000 | |
| ZenCart | 58,000 | |
| Magento CE | 1,800,000 | |

The following are just a few features that come standard with Comentum's Enterprise eCommerce Software – these features are not standard with other eCommerce software:
Best performance in its class
All Essential Features such as Managing Customers, Vendors, Comprehensive Inventory Management and Tracking, Order Management, Purchasing, Invoicing, Shipping and Logistics, Quotes and Sales Management, Marketing, Reporting and much more
Developer Friendly — Highly maintainable, customizable and manageable code by any capable developer
Intelligent SEO™
Full branding flexibility with ease
Feature customization with ease
Custom product presentation
Customer Relationship Management (CRM)
Inventory Management system (IMS)
Order Management system (OMS)
Comentum eCommerce vs Magento Commerce
Comentum
Magento
Intelligent SEO™
Ease of functionality customization
Ease of design customization
Cost: one time cost vs yearly cost
Cost: lower cost of customization
Quicker deployment
Maintainable (optimal) coding (less code is better)
Magento (1.8 million lines PHP code)
vs Comentum (30,000 lines PHP code)

Comentum eCommerce vs Others - Usability

| | Comentum | Others |
| --- | --- | --- |
| Custom product organization, presentation and navigation based on workflow and project requirements | | |
| Intuitive and ease of use (admin and front-end) | | |
| Best content / product organization | | |
| Easy to navigate and find products | | |
| Intelligent product search | | |
| Custom look and feel per product page and/or categories | | |
Comentum Advantages
Intelligent SEO™
Security and PCI Compliance
Scalable and flexible, providing room for business growth and upgrades
Performance and ability to handle your website's success and large traffic
Ease of functionality or features customization
Ease of design customization
Quick and easy to deploy
Developer friendly (ability to take your project to any other advanced developer with a quick learning curve)
Ease of customization and maintenance by other developers
Better usability
Support and maintenance guarantee for one year
Version and release controls
Strong, talented in-house team
No outsourcing
13+ years experience
Structured Framework and Architectural Pattern development
Model-View-Controller (MVC) - Isolating Program Logic and Actions from Layout and Design is an advantage that allows multiple and alternate interface designs that all use the same base code and logic, reducing development time and testing.
Coding Guidelines and Standards
Clean code and APIs
Browser compatibility
Highly maintainable code
13+ years Experience
Since the early days of the Internet, Comentum has been building eCommerce and enterprise web applications.
One of Comentum's greatest strengths is versatility. Comentum is experienced in all cutting-edge eCommerce applications such as:
B2B, B2C, B2E, B2G, C2B, C2C eCommerce applications
Product based eCommerce applications
Distribution and drop-ship eCommerce applications
Subscription based eCommerce applications
Mobile platform eCommerce applications
Social Networking eCommerce applications
Donation and non-profit based eCommerce applications
eLearning eCommerce Applications
Membership and Club based eCommerce applications

The Comentum Development Team has years of experience and extensive knowledge in security, PCI and HIPPA compliance.
Performance, Load and Stress Testing
Performance testing is a part of Comentum's development process. Comentum builds sites for success and develops to allow for salability and future growth. Advanced applications require greater server resources — Comentum builds automated test cases to simulate thousands or millions of users, to ensure that your site can handle the traffic.
Quality Assurance Testing
An important part of development is testing every possible interaction with the application. Comentum's skilled QA team thoroughly tests all features before they are deployed to the public. Comentum isn't satisfied until the highest level of quality is attained.
Usability
Usability is critical to the success of a web site. Although Comentum builds applications that can perform any complex task, simple, user-friendly interface designs are also integrated. Your target audience will appreciate the difference they discover, resulting in repeat usage and a great brand experience.
Site Management
Comentum Development provides the custom tools you need to stay in control of your site. Updating content, gathering reporting data, and making administrative changes are easy with a custom-built management console.
Comentum has engineered the Comentum Project Manager™, a proven system that enhances the delivery and communication, maintenance and upgrades with the client throughout the programming and development process.
Comentum Corporation builds websites for your success.