Web Applications
CMS Applications
eCommerce Applications
Business Planning for Web Projects
Server Management and Hosting
Email
Troubleshooting Email Issues
1. Double Check your Outlook/Outlook Express Settings:
- Open Outlook/Outlook Express
- Click on Tools -> Accounts
- Click on Mail tab - you'll see the list of email accounts that are set-up
- to view info and settings for each email account, double click on an email account.
- Click (highlight) the extra or duplicate email accounts that you are not using and click on Remove button (on the right)
- Click on General tab, Servers tab, Advanced tab, accordingly and check your Outlook settings against the following examples:
(Click to enlarge)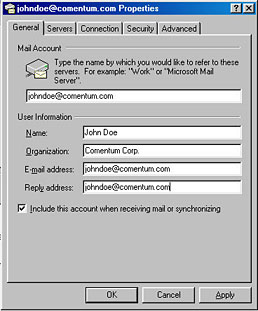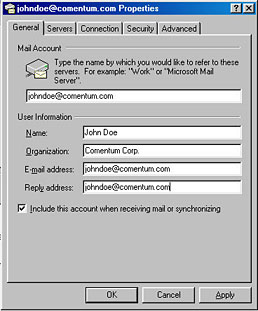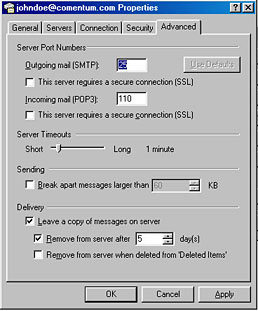 2. Check the Spelling of account settings
- Double Check the spelling of each account setting, domain name, account name (is the email address complete), Outgoing Mail, Incoming Mail, etc.
3. Passwords are case sensitive
- Make sure that you do not have CAP LOCK on - passwords are case sensitive.
4. Do you have an email with a problem recipient stuck in your Outbox?
- Click on your Outbox and see if there are any email messages stuck in there. If so, either click and move the message(s) to the Draft folder or right click and delete the message(s) that are left in your Outbox.
5. Make sure to click on Send/Recv button:
- Our mail server requires you to login to check your email before sending email (for spam protection) and clicking on Send/Recv button just does that.
6. If you can receive but can not send:
- Double Check your Outgoing Mail (SMTP) setting - use the above instructions (1.)
- Which company is your Internet connection provider? You usually use your Internet connection provider's Outgoing Mail (SMTP) setting when sending email.
- You'll need to contact your Internet connection provider to verify your Outgoing Mail (SMTP) setting.
- For an example of Outgoing Mail (SMTP) setting for Outlook Express for users who are using the SBC DSL connection, click here
7. If you can send but can not receive:
- Double Check your Incoming Mail (POP3) settings (Use the above instructions)
- A common mistake: For Servers setting (Servers tab), -> Account Name make sure that you use the full email address and not just the first part of the email address - for example: janedoe@comentum.com and not just "janedoe"
- Login to your Web Mail and Delete any suspicious email that can block your Mailbox. (emails that have no "From" or corrupted spam emails can cause Outlook/Outlook Express to hang.
8. Double check your Internet connection:
- Double Check your Internet connection. Make sure you can browse web sites.
9. Restart your computer:
- Sometimes, just restarting your computer may solve your email problem.
(Outlook/Outlook Express uses a special file to connect/send/receive email. Sometimes the file will need to be rebuilt and restarting the computer may simply rebuild the problem Outlook files.)
10. Check your domain's expiration date:
- Click here to check your domain name's expiration. Some of the domain name registrar companies will turn off your domain as soon as your domain expires.
11. Did you just install a new Firewall/Anti-Virus/Anti-Spam Software or change the settings on an existing Firewall/Anti-Virus/Anti-Spam Software?
- There are many reported issues on newly installed or existing Firewall/Anti-Virus/Anti-Spam softwares which are misconfigured and are causing problems sending and receiving emails. You may want to disable these types of software in your computer temporarily to see if your email problems go away. If this fixes your issue, try updating/re-installing or re-configuring your Firewall/Anti-Virus/Anti-Spam software correctly.
12. Write down the error message and number (error# example: 0x800ccc15) and do a Google/Yahoo/MSN search on the error#:
- If you type the error# or part of the error message in Google/Yahoo/MSN search, you will find hundreds of results and solutions to your specific email issues.
13. Email messages will stop downloading at a particular message or keeps downloading the same messages over and over:
- This is an issue with the older version of Outlook/Outlook Express. A corrupted message stuck in your Mailbox on our server will cause Outlook/Outlook Express to hang or keep downloading the same message. Login to your Web Mail and delete all of the suspicious messages. Also try to upgrade your Outlook/Outlook Express.
Website Design and Development - San Diego
For Information Contact:
Comentum Corp
6222 Ferris Sq.
San Diego, CA 92121
Phone: 858-410-1500
Fax: 858-410-0707
Sales: 800-387-1920
Hours: Mon. - Fri., 9 a.m. - 5 p.m. PST
Contact Us »
Mobile App Development
iPhone, Google Android, BlackBerry, Windows Mobile
In-house development team.
San Diego, CA, USA.
Learn More
Web App Estimator
Select and unselect modules such CMS or eCommerce for your web application and watch the cost update in real time.
Try It »