Web Applications
CMS Applications
eCommerce Applications
Business Planning for Web Projects
Server Management and Hosting
Email
Manage and Administer Email Accounts
Go to the Comentum's site: https://www.comentum.com
Click on the Client Center (upper right of web site) and click Admin
Log in by typing your email address and password. (you need to be an administrator)
Click on your Domain Name to view email accounts.
- To Add A New Email Address: click on the New user icon on the top nav bar.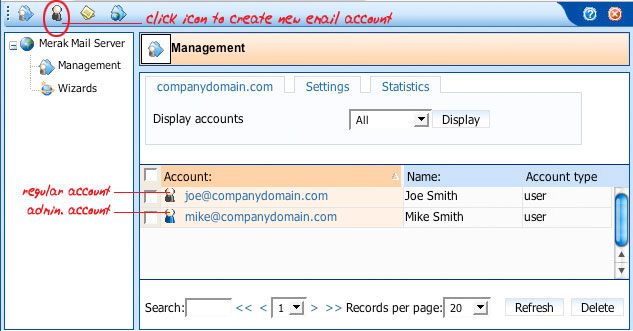 (
click to view larger
)
- To Edit/Manage: click on any existing email account
Fill in the following:
Alias: Type in the first part of the email address - the part before the @ sign. (example: joe)
Username: Type in the full email address. (example joe@yourdomain.com)
Full Name: Type in the name that you wish to appear in the "from" when you send an email using Web Mail.
Password: Type in your password. (Must be at least 5 characters and/or numbers)
Confirm: Retype password.
OK: Click "ok" to complete email account.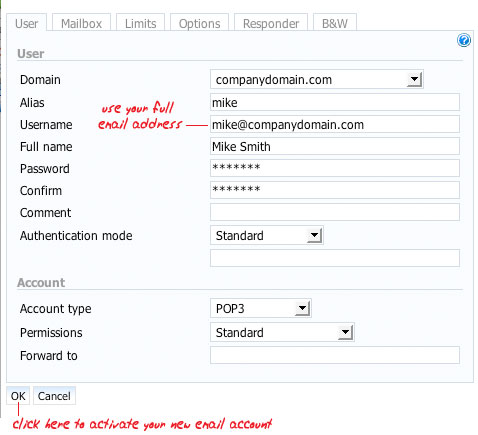 Advanced Configurations:
How to setup email forwarding
How to create an Auto Responder
How to turn on Spam Filter
For Information Contact:
Comentum Corp
6222 Ferris Sq.
San Diego, CA 92121
Phone: 858-410-1500
Fax: 858-410-0707
Sales: 800-387-1920
Hours: Mon. - Fri., 9 a.m. - 5 p.m. PST
Contact Us »
Mobile App Development
iPhone, Google Android, BlackBerry, Windows Mobile
In-house development team.
San Diego, CA, USA.
Learn More
Web App Estimator
Select and unselect modules such CMS or eCommerce for your web application and watch the cost update in real time.
Try It »