New from Comentum a One-of-a-kind Online Web Application Cost Estimator
Find out instantly how much a web application costs . . . just select the modules that you need and watch your specifications list and cost update in real time.

San Diego, California, July 1, 2012 — The San Diego based web application developer, Comentum® Corporation has just released its new, one-of-a-kind "Web App Cost Estimator" and is available to everyone at no cost.
How much does a custom web application cost?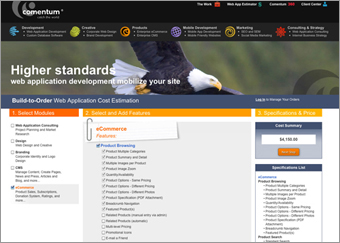 With the new online Comentum Web App Cost Estimator, you will be able to create a list of basic web application modules and module elements that you need for your project. As you select each item, the cost of your customized web application will instantly update in real time.
Some of the modules that the Comentum Web App Cost Estimator will customize and calculate are: eCommerce, Content Management System (CMS), Web Application Consulting, Custom Design, and Branding.
There is no registration or fee to use the Comentum Web App Cost Estimator . . . everyone is welcome to try it. For users that would like to have a PDF and HTML version of their selection emailed to them, there is a simple contact form provided. Additionally, a user can save and manage their selections for future use if they choose to enter their email and create a password.

Each of the web application modules contain multiple features and each feature contains multiple elements. As the features and elements are selected or unselected the total cost will change and update. By selecting or unselecting items, a custom web application can be designed according to specific needs, creating a custom web application that is within a certain budget or has all of the bells and whistles.

Each module shown on the estimator has several features, and each feature contain certain elements that are automatically included in the cost.

Comentum specializes in custom web applications.

Comentum created the Web App Cost Estimator to help people gauge the cost of a basic web application and to see some of the standard features and elements that go into an application. The lists on the estimator can be used as a guide or starting point for a user to create a basic web application.
Comentum specializes in custom web application development and design, and typiclly creates and builds specialized applications that suit a client's unique needs, so anything is possible.

About Comentum ®
Since 1996, San Diego based Comentum ® Corporation is a leading enterprise solutions company consisting of seven experienced and specialized divisions: Custom Mobile Development, Web Application Development Services, Corporate Web Design, Products, Marketing and Research Services, Consulting and Strategy services, and Technology Services.
Contact Information
Comentum Corporation
6222 Ferris Square
San Diego, CA 92121
800-449-1920
www.comentum.com
Comentum® provides businesses with the tools and innovation needed for success.

For Information Contact:
Comentum Corp
6222 Ferris Sq.
San Diego, CA 92121
Phone: 858-410-1500
Fax: 858-410-0707
Sales: 800-387-1920
Hours: Mon. - Fri., 9 a.m. - 5 p.m. PST
Contact Us »
Mobile App Development
iPhone, Google Android, BlackBerry, Windows Mobile
In-house development team.
San Diego, CA, USA.
Learn More
Web App Estimator
Select and unselect modules such CMS or eCommerce for your web application and watch the cost update in real time.
Try It »