Comentum 360 — Premium Web Application Research Articles for Business Decision Makers
Informed decision making is critical to every business, whether a small business, large corporation or a not-for-profit organization, especially when it involves the ever-changing and fast paced technology, eCommerce and the Internet.

The San Diego based web application development and design company, Comentum® has just released its new website, built on the developer-friendly Comentum Platform — and it is packed with valuable information for any business. Premium research articles typically come with a price, but Comentum 360, a feature of the new website, is where you will find the latest technology research articles and all information is openly provided for everyone.
San Diego, California, June 1, 2012 — Comentum® Corporation announces the release of their new website that includes the popular Comentum 360 feature that is filled with research and reference articles about business and technology. Comentum 360 is where business decision makers find trusted information that can help change the course of their web application investments from poor to positive, and all articles are available to the public.
Who can benefit from Comentum 360 articles on web applications, eCommerce, CMS and technology?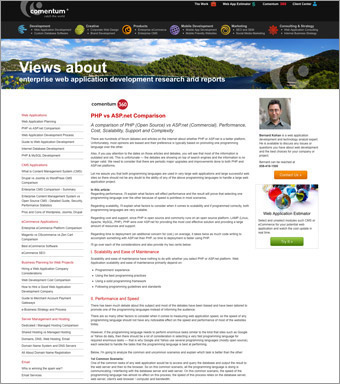 If you are a decision maker at a business or organization of any size, Comentum 360 has information that will help you make an informed decision on many topics about web application development and business technology. Author and researcher, Bernard Kohan says, "the 360 collection of articles are written for professionals interested in tested research and information based on experience, to help make decisions about building a new web application or re-working an existing one, or choosing the best platform for the application. When it comes to your presence on the Internet, wise decisions not only keep you in the game, but place you at the leading edge."
Some of the professionals that use Comentum 360 because of the available inside knowledge based on experience:

Business Executives — resources on planning, executing and successfully completing and deploying a Web Application Project – information such as Web Application Development Planning, Web Application Consulting, Internet Business Strategy, e-Business Strategy and Process
Entrepreneurs that want to start a new web application project — articles that help with the selection of a great development platform and company, such as Considerations When Hiring A Web Application Development Company, How to hire a Web Application Development Company, Web Development Cost / Rate Comparison.
IT Professionals — articles that provide comparisons, such as Dedicated / Managed Hosting Comparison or Drupal vs Joomla vs WordPress CMS Comparison, PHP vs ASP.net Comparison.
Marketing Directors — information on marketing strategy and processes, such as Social Media Marketing, Search Engine Optimization and Marketing

Comentum 360 Research Articles
Comentum 360 is a feature on comentum.com that is continuously expanding with new articles and fresh research being added regularly as technology changes and new ideas develop quickly. It is a place where business professionals can find the latest information to help solve common problems that many people have, and require quality information to help make strong decisions. Many business decisions regarding building a web application or a new project have long-term and costly implications, so it is important to have the best information available to decide the best direction, or re-direction to gain a solid foundation and best approach.
Premium information is generally expensive or difficult to find, but Comentum believes that it is good to have quality research available for everyone. Best practices decision making helps improve the American business landscape over all.
Comentum's experienced, all in-house teams (no off shore, no outsourced) offer the following services:
Web Application Development Services
Web Application Consulting
Internet Business Strategy
Custom Database Software
Enterprise eCommerce
Enterprise CMS
Mobile App Development
Mobile Friendly Websites
SEO and SEM
Corporate Web Design
Brand Development
Social Media Marketing
About Comentum ®
Since 1996, San Diego based Comentum ® Corporation is a leading enterprise solutions company consisting of seven experienced and specialized divisions: Custom Mobile Development, Web Application Development Services, Corporate Web Design, Products, Marketing and Research Services, Consulting and Strategy services, and Technology Services.
Contact Information
Comentum Corporation
6222 Ferris Square
San Diego, CA 92121
800-449-1920
www.comentum.com
Comentum® provides businesses with the tools and innovation needed for success.

For Information Contact:
Comentum Corp
6222 Ferris Sq.
San Diego, CA 92121
Phone: 858-410-1500
Fax: 858-410-0707
Sales: 800-387-1920
Hours: Mon. - Fri., 9 a.m. - 5 p.m. PST
Contact Us »
Mobile App Development
iPhone, Google Android, BlackBerry, Windows Mobile
In-house development team.
San Diego, CA, USA.
Learn More
Web App Estimator
Select and unselect modules such CMS or eCommerce for your web application and watch the cost update in real time.
Try It »