Customer Relationship Management (CRM) Software
Streamline your business operation and manage Clients, Prospects and Vendors with ease using Comentum's CRM and Collaboration Tools.
Comentum's Customer Relationship Management is a fully customizable PHP-MVC based Project Management System with intuitive design and powerful features.


Comentum's CRM Advantages:
You have full control of the software and data - install it at your corporate network and you do not need to be concerned with the security and privacy of your data
Customizable - Customize it to fit your needs - you have full access
PHP-MVC Based - Easy to maintain and customize (structured framework and architectural pattern)
Manage Customers and Prospects - Easy to use Contact Management System
Manage Estimates - Manage estimates with ease
Manage Jobs and Workloads - Manage jobs and employee's assigned work
Communication - Collaborate with clients and team members
Notifications and Reminders - Notifications and Reminders on due dates and changes
Users and Groups - Create and manage users and groups with ease
Calendar - Manage events
Reports - Productivity reports, Team Time Card report, Team Availability Report, Project and Task Group hours and due date reports, etc.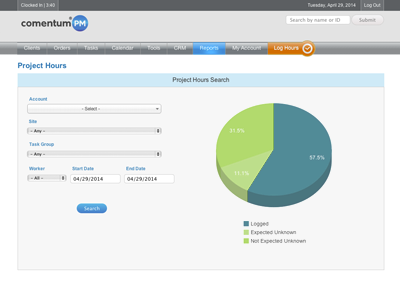 Comentum Corporation builds websites for your success.
For Information Contact:
Comentum Corp
6222 Ferris Sq.
San Diego, CA 92121
Phone: 858-410-1500
Fax: 858-410-0707
Sales: 800-387-1920
Hours: Mon. - Fri., 9 a.m. - 5 p.m. PST
Contact Us »
Mobile App Development
iPhone, Google Android, BlackBerry, Windows Mobile
In-house development team.
San Diego, CA, USA.
Learn More
Web App Estimator
Select and unselect modules such CMS or eCommerce for your web application and watch the cost update in real time.
Try It »