Web-based Time Clock Software
Simplify your employees's time tracking and attendance with Comentum's web based time clock software.
Comentum's Time Clock Software is a fully customizable PHP-MVC based Cloud ERP System with intutive design and powerful features.


Comentum's Time Clock Software Advantages:
You have full control of the software and data - install it at your corporate network and you do not need to be concerned with the security and privacy of your data.
Customizable - Customize it to fit your needs - you have full access.
PHP-MVC Based - Easy to maintain and customize (structured framework and architectural pattern)
Acurate and Meet State Labor Laws - Acurately calculates overtime and double time to meet state laws
Control Protocols - Control protocols to disallow employees to change their hours
Employee Validation - Employees login and validate their hours to prevent any future discrepancy claims
Lunch Breaks - Automatic lunch break calculations
Simple and Flexiable - Manage employees from any computer and any location
Monitor Your Employees - Monitor your employees' punches from any computer or location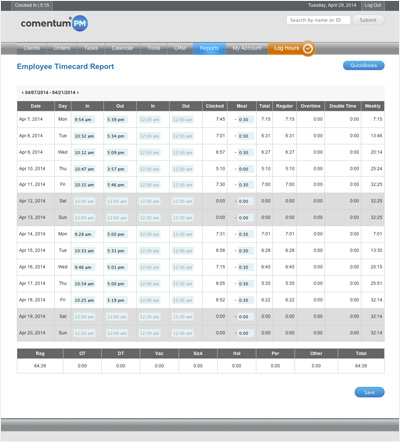 For Information Contact:
Comentum Corp
6222 Ferris Sq.
San Diego, CA 92121
Phone: 858-410-1500
Fax: 858-410-0707
Sales: 800-387-1920
Hours: Mon. - Fri., 9 a.m. - 5 p.m. PST
Contact Us »