Project Management Software
Streamline, Manage Projects and Increase Productivity with Comentum's Custom Web-based Project Management System and Collaboration Tools.
Comentum's Project Management Software is a fully customizable PHP-MVC based Project Management System with intuitive design and powerful features.


Comentum's Project Management Software Advantages:
You have full control of the software and data - install it at your corporate network and you do not need to be concerned with the security and privacy of your data
Customizable - Customize it to fit your needs - you have full access
PHP-MVC Based - Easy to maintain and customize (structured framework and architectural pattern)
Manage Customers, Vendors, Prospects - Easy to use Contact Management System
Manage Projects, and Milestones - Manage Projects and Milestones easily
Manage Tasks and Task Groups - Powerful features for managing Tasks and Task Groups
Time Management - Intelligent time (bandwidth) management based on clients' priority level, project's due date and team's average work hours
Communication - Collaborate with clients and team on each task or task groups
Notifications and Reminders - Notifications and Reminders on due dates and changes
Users and Groups - Create and manage users and groups with ease
Calendar - Manage events
Reports - Productivity reports, Team Time Card report, Team Availability report, Project and Task Group hours and due date reports, etc.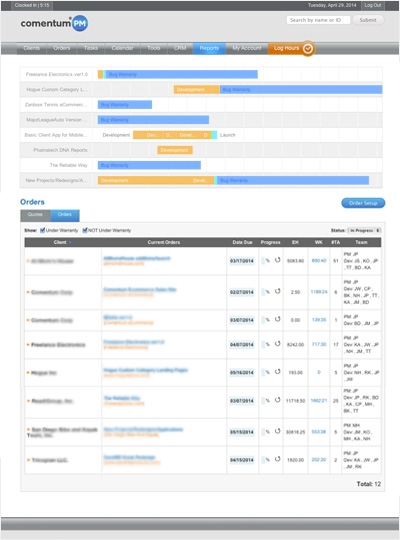 Comentum Corporation builds websites for your success.
For Information Contact:
Comentum Corp
6222 Ferris Sq.
San Diego, CA 92121
Phone: 619-990-1212
Hours: Mon. - Fri., 9 a.m. - 5 p.m. PST
Contact Us »