Order Management Software: OMS
Streamline your operation and manage orders and logistic needs with ease with Comentum's OMS Order Management System
Comentum's OMS is a fully customizable PHP-MVC based Order Management System with intuitive design and powerful features.


Comentum's OMS Advantages:
You have full control of the software and data - install it at your corporate network and you do not need to be concerned with the security and privacy of your data
Customizable - Customize it to fit your needs - you have full access
PHP-MVC Based - Easy to maintain and customize (structured framework and architectural pattern)
Manage Orders - Manage orders, invoices, packing lists
Manage Logistics - Manage shipments and inventory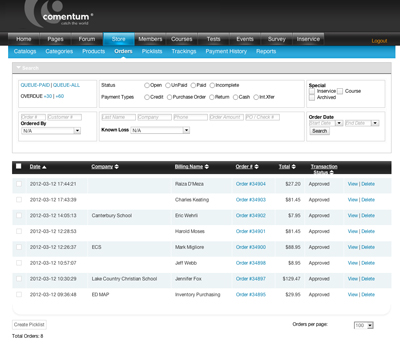 Comentum Corporation builds websites for your success.
For Information Contact:
Comentum Corp
6222 Ferris Sq.
San Diego, CA 92121
Phone: 858-410-1500
Fax: 858-410-0707
Sales: 800-387-1920
Hours: Mon. - Fri., 9 a.m. - 5 p.m. PST
Contact Us »