The Work
The Work | Custom Database Application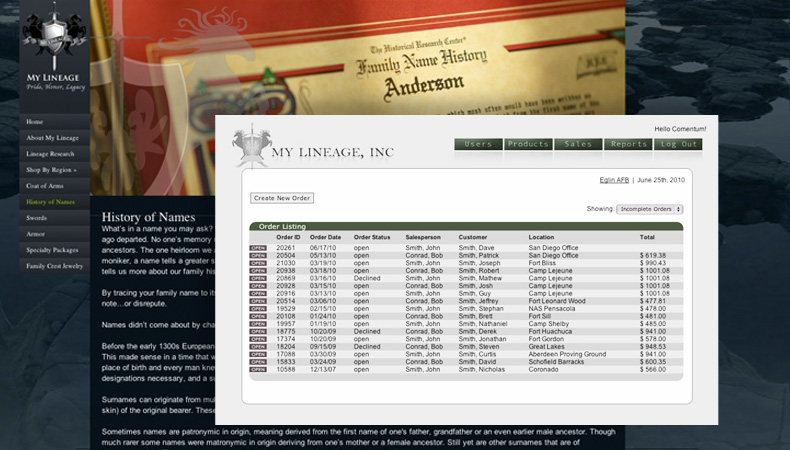 My Lineage
---
Sales and Order Management System
This project showcases Comentum's development capabilities of building full-featured custom Inventory Management Systems (IMS) and Order Management Systems (OMS). Comentum worked closely with My Lineage's knowledgable team to create a web database application that fully automates and streamlines My Lineage's company operations and order management.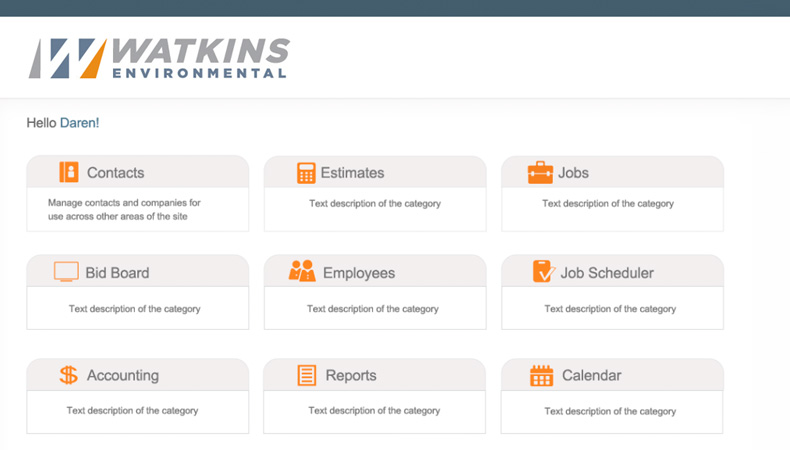 Watkins Enviromental
---
Custom Management System
Watkins' project showcases Comentum's capabilities of custom web database applications. This project is a full-featured custom database application built to automate and streamline Watkins' business operations from client management, to project and task management to job and delivery management, document management, HR, and functionalities that manage and submit all governmental forms.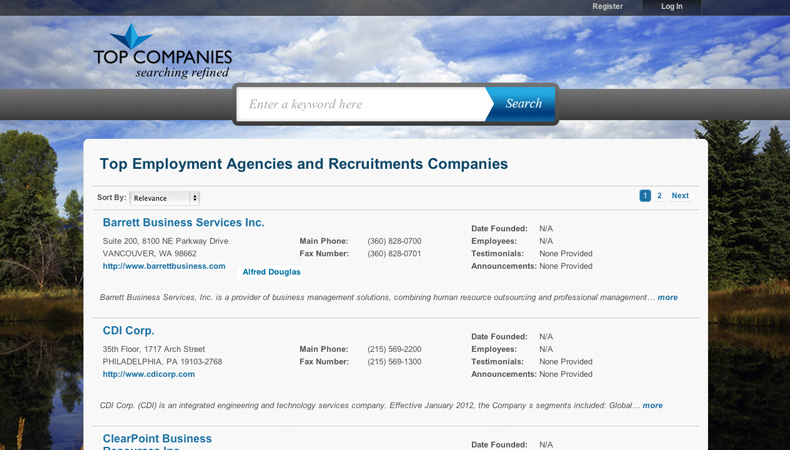 Top Companies
---
Emerging Search Engine
Top Companies is an emerging search engine company that uses an innovative search engine platform called "DistilledSearch.".
DistilledSearch technology, developed by Comentum Corp. allows users to seek out the top companies in any industry without any clutter bloating and clouding their search results.
Fuel-Rod.com
---
Interactive Touch Screen Kiosk
An advanced iPad App that serves two purposes: A user-friendly touch screen interface that allows customers to purchase from automated kiosk locations around the world, and backend infrastructure that monitors vending machine status and manages options remotely from a single server.
Friendly touch screen interface
Supports iPad credit card swiper
Unlimited Kiosk locations
Realtime success / failure monitoring
Automatic notifications for kiosk technicians
Manage pricing and other kiosk settings remotely
San Diego Auto Connection
---
Inventory Management System
This enterprise application has all of the necessary business features from managing and maintaining automotive inventory to managing prospects and clients. Below are a few features:
Automotive Inventory Management
Automotive Sales
Prospect Management System
Client Management System
Customer Relationship Manager (CRM)
Reporting, Charts and Graphs
Multi-level Client Login and Dashboard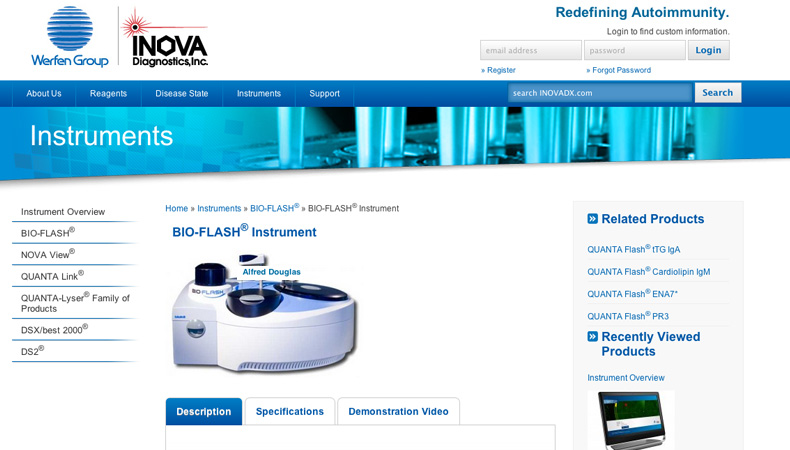 Inova DX
---
INOVA Diagnostics, Inc., part of the Werfen Group, has been the trusted source for autoimmune disease diagnostics for over 20 years.
Comentum worked closely with INOVA's team to build an exceptional Web Application to set INOVA apart from its competitors. INOVA's Web Application provides a valuable tool for its clients, suppliers and distributors, and streamlined their internal business management. In addition to advanced ecommerce functionalities, INOVA's website has features such as product management, full CMS, and document management system.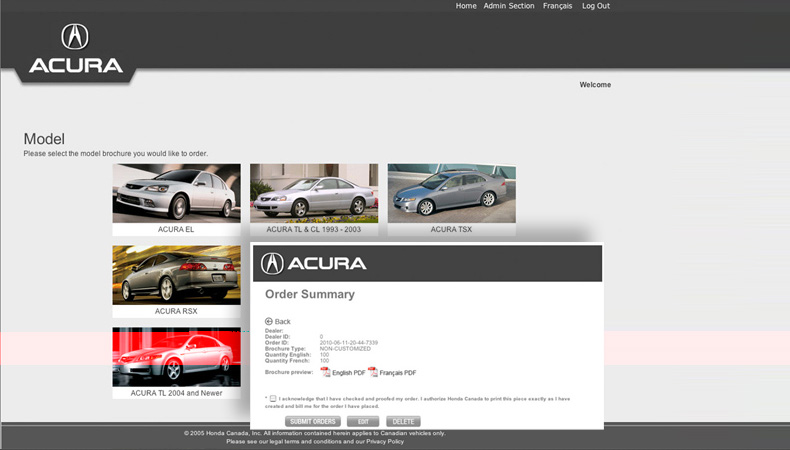 Acura
---
VDP Application | Web-to-Print Application | Service Warranty Brochures
This is another example of a custom project produced by Comentum's working with Acura's inspirational and knowledgable team. Comentum worked with Acura's talented marketing and technology group to build a custom Web-to-Print and VDP (variable data) application which helped streamlined Acura's nation-wide dealer brochure ordering system — customized to each dealer across the country.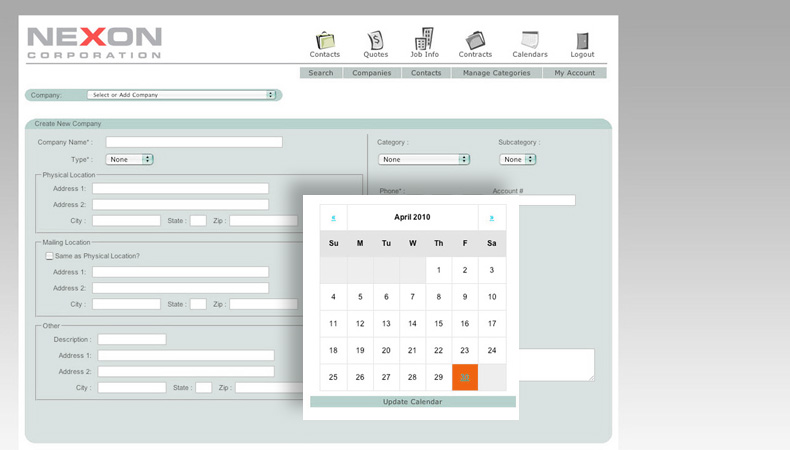 NEXON Corporation
---
Nexon project is a great example of Comentum's capabilities in building custom Web Database Applications.
This project is a full-featured Custom Database Application built to automate and streamline Nexon's day-to-day business operations from custom CRM to Job and Document Management.